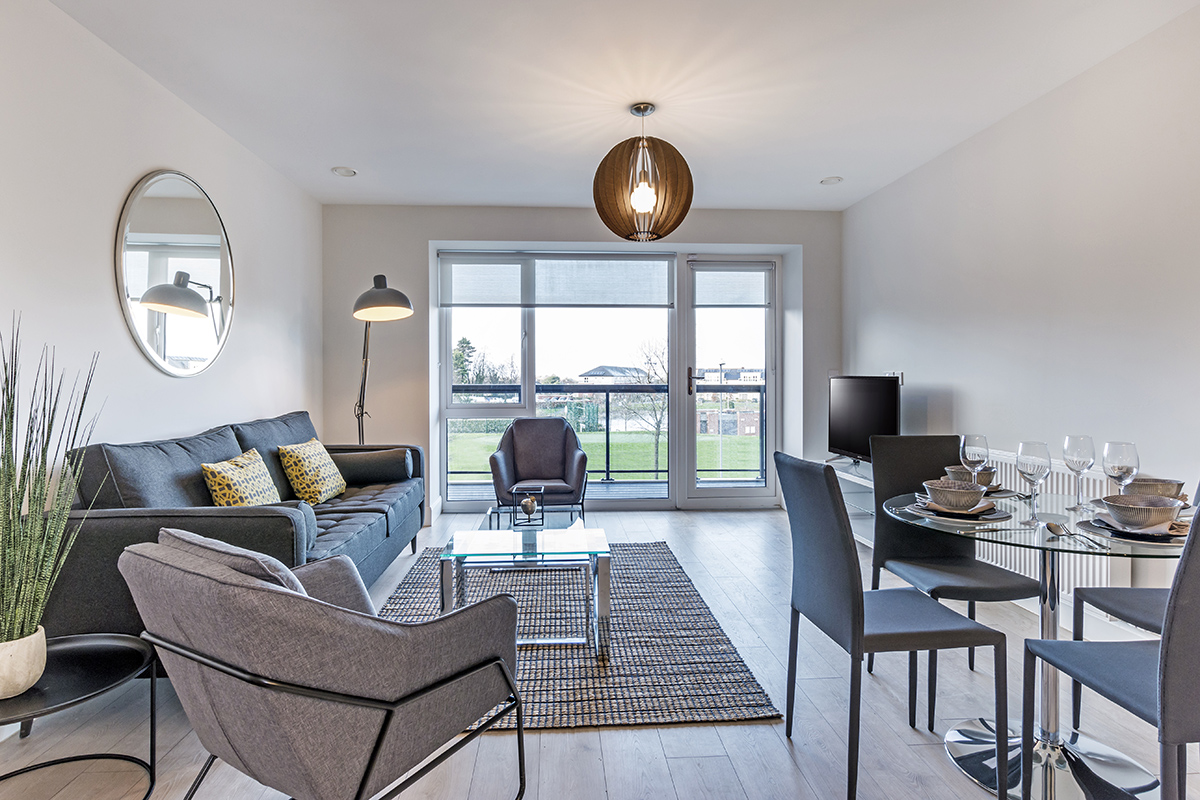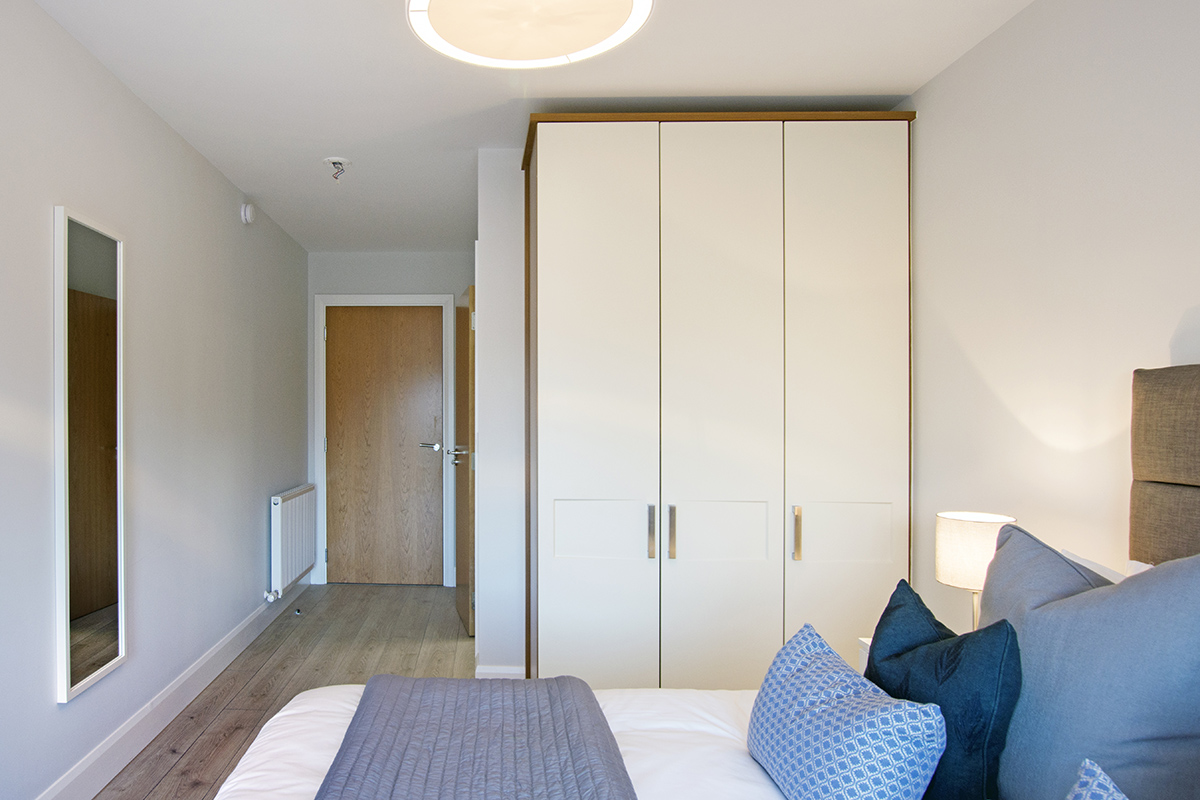 Letting of Superior New High Quality Apartments. The Two Bedroom Apartments have a modern take on an 'Art Deco Style' furnishing with skyscraper blue accents mixed with glass and steel structural-like furniture. Combined, the various elements of carefully chosen furniture pieces, upholstered in a sliding scale of grey shades with contrasting accent tones and the use of glass and steel are all designed to visually define the various zones within a kitchen, living and dining room.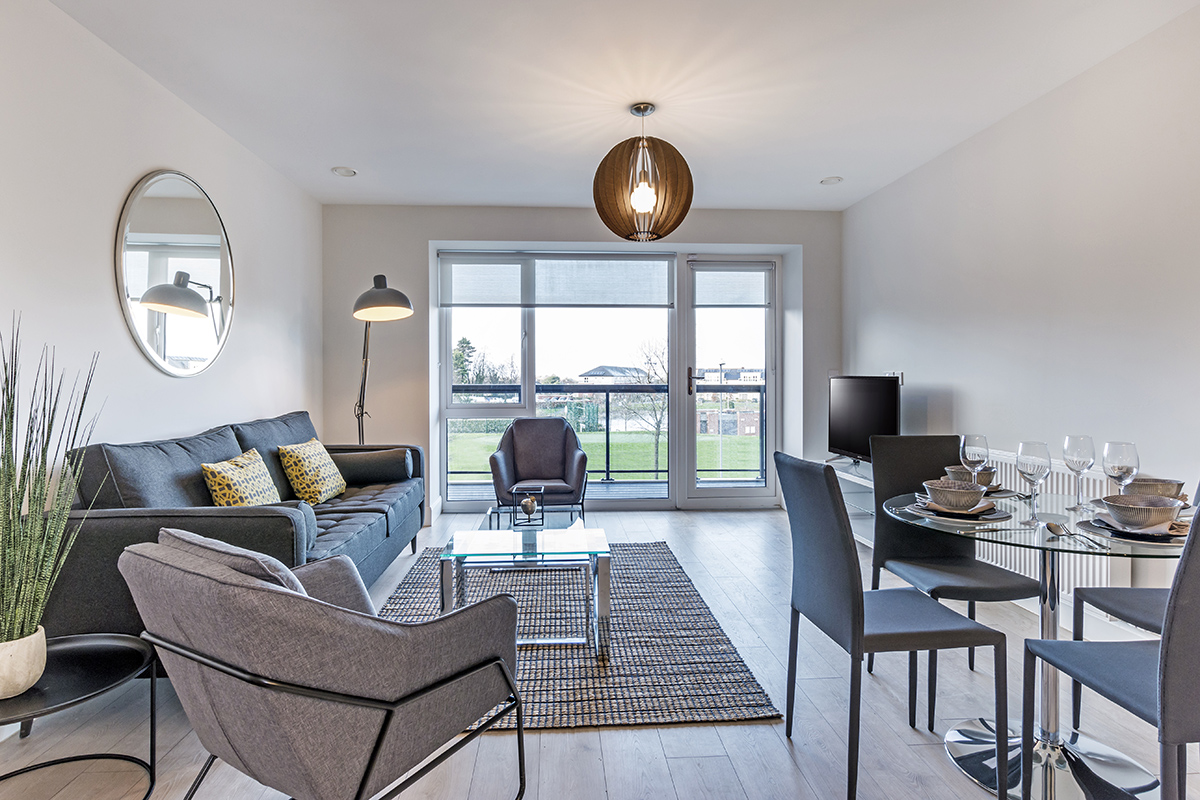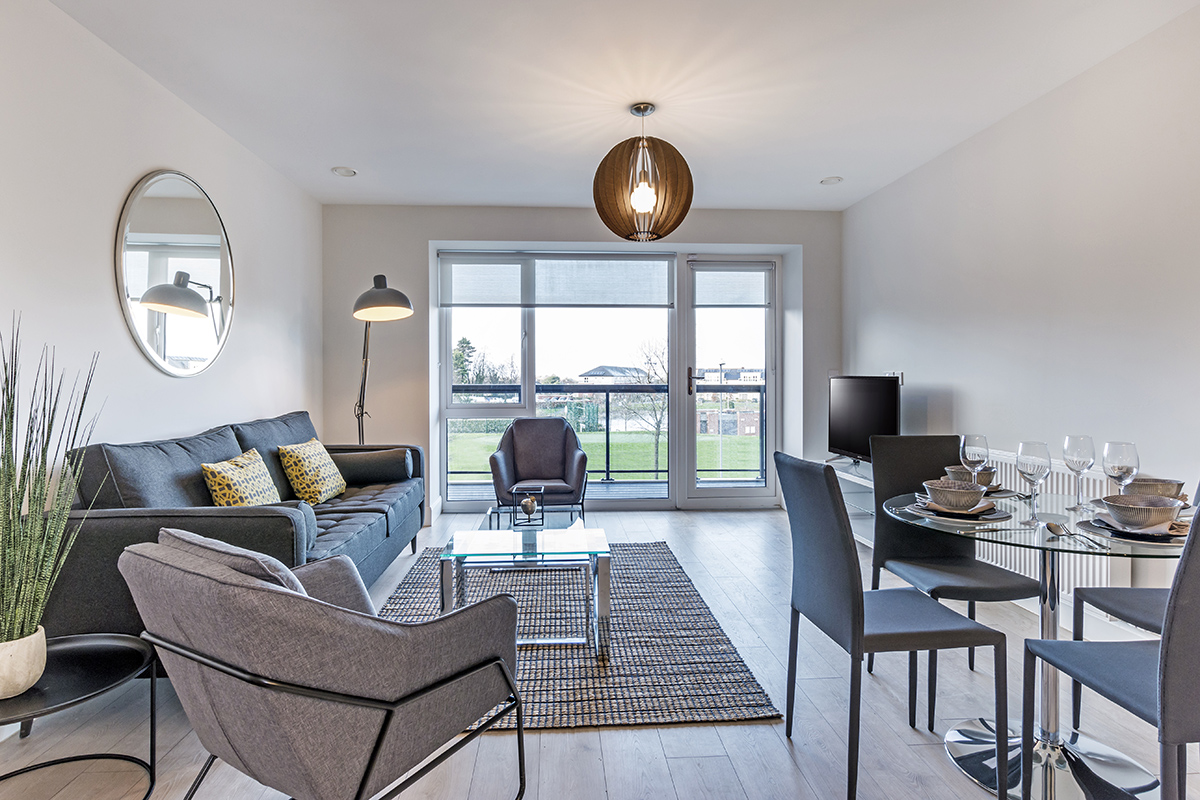 LIVING ROOM, KITCHEN & DINING ROOM
The living spaces in Leona are well designed to maximise space for families and individuals. Elegant and modern kitchen designs have been created for Leona with painted shaker doors and sleek, slimline brushed aluminium door handles. Wired for TV, Cable, Satellite and telephone data.
BATHROOM
Cool clean Sandringham taps, modern baths, sleek contemporary sanitary ware are all fitted as standard. Tiled in Blanco tile, with Goteborg Feature tile. A panelled, light walnut wood feature housing holds the mirror and incorporates vanity lighting. The main bathroom features a Shower/Bath combined.
BEDROOM
The bedrooms are all large rooms with purpose designed bedroom furniture. Day and Night blinds provided throughout. There is ample storage space with Ivory Shadow wardrobes with Walnut trim. Wired for TV, Cable, Satellite and telephone data.
Heat Recovery System
Leona Apartments have a state of the art hot water and heating system which means residents will always have hot water and heat whenever required while resulting in less energy used and lower running costs.
Hot Water/ Heating System
Hot water heated centrally within the development and hot water is available constantly and residents only pay for what they use.
Prepago Heating
Residents can top up online using the Snugzone App.
Pinergy
This next generation electrical control system allows residents to manage and monitor electricity usage remotely. There are no monthly electricity bills. Residents can simply top up online using the Pinergy Smart App.
Flooring
Entrance halls, en suites and bathrooms are floored with porcelain tiles. Floors in living areas, bedrooms and utility/ storage rooms are finished with wood flooring.
Internal doors
Cherrywood flush front door with elegant walnut inlay border and cherrywood flush doors internally with high quality minimalist Senelli/ Linosa door handles.
Windows
Windows are A-Rated uPVC/ Aluminium windows.
Balconies
Steel and glass balconies with free decking
Large Storage Area
Ample storage is a feature of all apartments